Trevor Chamberlain ROI, RSMA
Born Hertford in 1933. No formal Art School Training. Worked initially as an architectural assistant until 1964, since when he has painted professionally.
Main subjects of interest are Marine, Figure, Town and Landscape, with particular emphasis on atmosphere and light, painted alla prima from life.
Michael Shepherd (then Art Critic of The Sunday Telegraph) wrote in 1972 : "...the work of Trevor Chamberlain has shone out for me with its remarkable liveliness of almost breathable air and flickering light. Anyone who dotes on Boudin may feel a kindred spirit here. He is one of the best exemplars of the merits of working from life in the open air."
The late Rowland Hilder has written of his "admiration of Trevor Chamberlain's superb watercolours."
Awards
Winner of many awards over the years, including the Lord Mayor of London's Award, six different awards at the ROI Exhibitions, the Chris Beetles Award at the RWS, and the Laing Painting Competition.
Permanent collections held at Longleat House, Wiltshire, Victoria Gallery, Bath, John Harvey of Bristol.
Exhibited Work
Has had more than twenty one-man shows and exhibits regularly in London, the provinces and abroad.
Has exhibited some ten works at various RA Summer Exhibitions.
Has had two books on oil-painting published, entitled "OILS" (1993) and "OIL PAINTING PURE AND SIMPLE" (1987), also a book on watercolour, entitled "TREVOR CHAMBERLAIN - A PERSONAL VIEW" (1999), plus a book titled "ENGLAND AND BEYOND" (2006).
His work has been featured on British television and he has contributed to two programmes for Connecticut TV and to an educational film "The Colourmen" produced by Winsor & Newton.
See also Miller's 1996 and 2005 edition of the Picture Price Guide.
Member of the Royal Institute of Oil Painters, the Royal Society of Marine Artists, past President of the Wapping Group of Artists and past President of Chelsea A.S.
Represented in the following collections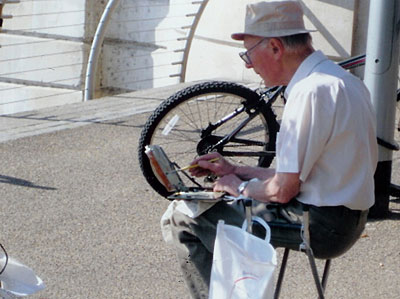 • GPO Headquarters
• Hertford Museum
• Lord Healey
• Sir David Hope-Dunbar
• Mr. Michael Shepherd
• The Rt. Hon. Antony Baldry MP
• Mr. Iain Sutherland
• Taylor Woodrow
• Hampshire Regiment
• Hertford Town Council
• Admiral Sir Desmond Cassidi
• National Maritime Museum, Falmouth
• Wave Museum
• Guildhall Art Gallery
• Lord Carrington
• Earl of Carnarvon
• Duchess of Buccleuch
• Miss Esther Rantzen
• Winsor & Newton Ltd.
• Marks & Spencer
• Sir Peter Davis
• Mr. Chris Langham
• Government Art Collection
• Avon Insurance Co.
• Mr. Jack Russell
• Natwest Bank
• Admiral The Lord Boyce
• Marquess of Salisbury
• Lord Laming
• RAC Club, Pall Mall
• Caravan Club